Save money
get discounts of up to 50%*
*
For any booking 48 hours in advance
95,9%
of satisfied clients !
Intersport
No. 1 for on-line ski rentals
Welcome to Intersport in Les Orres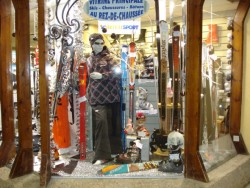 A bigger Intersport in Les Orres ! To provide you with an even better service :
more than 650 sq. m extra space !
4 shops to choose from
You will be welcomed by a
team of snow sport specialists
who'll provide you with
advice on renting ski equipment
to suit your level.
Our services :
You can purchase skis here in Les Orres.
Largest choice of brands in the resort and at affordable prices with 2 exclusive makes : Stockli et Blizzard.
You can try skis, snowboards and boots before you buy.
We get better all the time at meeting your needs. Your Les Orres Intersport mountain shop thinks of your comfort by offering a ski and boot deposit service.
Each day, you can have the luxury of fetching your comfortable boots which have been dried, heated and disinfected overnight. For all bookings concerning lockers, please contact us directly on +33 (0)4 92 44 01 86.
A team of professionals
Whatever the situation, you can always rely on Stéphane's best advice as a national ski instructor.
Whichever sport shop you choose, you will be met by real ski maintenance professionals. We offer a Bootfitting service for comfier boots.